Tell the World: Brand Storytelling and Development
"People will forget what you said, will forget what you did, but people will never forget how you made them feel" – Maya Angelou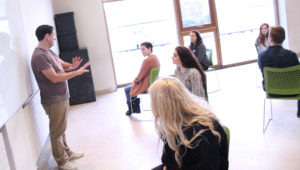 Telling a strong story is critical for your brand. 70% of what we learn is through stories, so any information presented in a story format sticks better. Customers need to identify and understand your brand and what is being offered.
We help brands discover and comprehend their own message, so that they can create and understand their story. We constantly work with brands in enhancing and reinforcing their core message, the centre of every story.
Stories humanise the brand, making it relatable and enhance the power of persuasion by instilling emotion, and has the power to bridge the gap between the brand and the consumer and turn it into a close, personal relationship.
Previous Clients
Teelings Whisky Distillery
Guinness Storehouse
Jameson
For more information on how we can help tell your brand's story, contact Anna at educate@gaietyschool.com