GSA in Business Information Session
Is your business looking for new ways to improve employee training and customer satisfaction? Are you interested in new methods of engaging and exciting clients? Join us at one of our "Lunch & Learn" events to discover how our training can help your business perform at its best.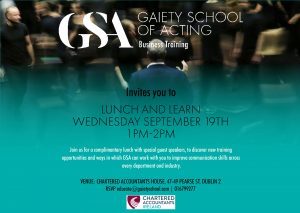 LUNCH AND LEARN
Wednesday September 19th
1pm-2pm
VENUE: Chartered Accountants House, 47-49 Pearse St, DUBLIN 2
Join us for a complimentary lunch with special guest speakers, to discover new training
opportunities and ways in which GSA can work with you to improve communication skills across
every department and industry.
If you'd like to register contact us by email (outreach.marketing@gaiety.stage-secure.com).