RE-IGNITE | RE-ENGAGE |RE-CONNECT
A Three Day Corporate Training Course in Dublin, Ireland
November 4th-6th 2019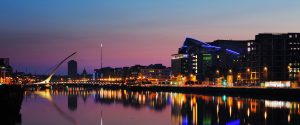 A comprehensive and inspiring course which uses theatre and acting skills and techniques to reconnect your employees with their interpersonal communication skills and invigorate your team's dynamic.
Based in Dublin's Cultural Quarter, this three day intensive training programme will also offer the group the opportunity to immerse themselves in all that this vibrant European capital has to offer.
This training course is suitable for individuals and teams.
Course Modules
The Confidence Edge Maximising the impact of your presentations
Pause to Play Sparking creativity & innovative thinking
Team Building Galvanising the team through play & performance
Improvisation Nurturing sponteneity and courage
Leadership Skills Enhancing personal impact & receptive skills
Voice Coaching Improving clarity & enhancing communication
Fee: €1650 per delegate
Includes three nights accommodation, all training, tickets to selected cultural sights and theatre shows and two networking dinners.
For more information, and to express interest contact educate@gaietyschool.com | +353 (1) 6799277