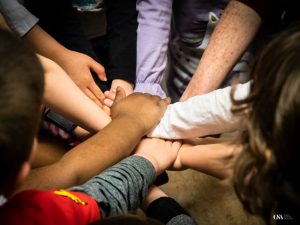 Empathy workshop through creative drama
During this workshop, children will focus on the issues of respect, empathy, emotional health and well-being. We will explore the following strand and strand units, taken from the
Primary school curriculum: SPHE
(DES, 1999): 'Myself and other people', 'my friends and other people' and 'relating to others'.
This workshop will also look at ways at integrating literacy and numeracy skills into the drama curriculum while maintaining the integrity of the drama itself. The pupils will be expected to enter into and engage in a fictional world where the themes of bullying, marginalization and conflict resolution will be explored.
General Learning Outcomes
Encouraging pupils to show understanding and empathy for others

Highlighting the impact of their behaviours on others

Helping pupils to accept and celebrate similarities and differences

Developing pupil's creative, emotional, moral, aesthetic and social behaviours

Promoting mental and emotional health and well being
Integrations
SPHE

Literacy and Numeracy
Contact Us:
To book an In Their Shoes session, or to discuss our programmes further, contact us via email at educate@gaietyschool.com or give us a call on 01 – 6799277 and ask for Anna.