Motivate and Inspire your Team
This is a series of one hour remote sessions over 5 days Monday – Friday.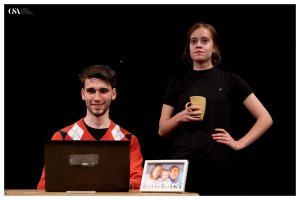 Each day will present an opportunity for your team to engage in a fun and creative way culminating in a presentation of their own creations at the end of the week.  
Motivate and inspire your team through interactive, fun and high energy online sessions with one of our experts in stand- up comedy, Sharon Mannion. These workshops are designed to push participants creatively, let go of their fear and improve their ability to work as a team. We ensure comedy is at the heart of these sessions, keeping tone lighthearted and engaged. 
A common thread throughout is your brand's individual message, keeping your company's ethos at heart. 
OUTCOMES:
*Team Motivation
*Cultivating creativity & generating ideas
*Risk taking 
*Energy & confidence enhancements
*Making others feel safe to offer their opinions
*General team & relationship building
Fee: €1500 
5 day series working with a team, up to 15 participants
Contact Anna at educate@gaietyschool.com for more information