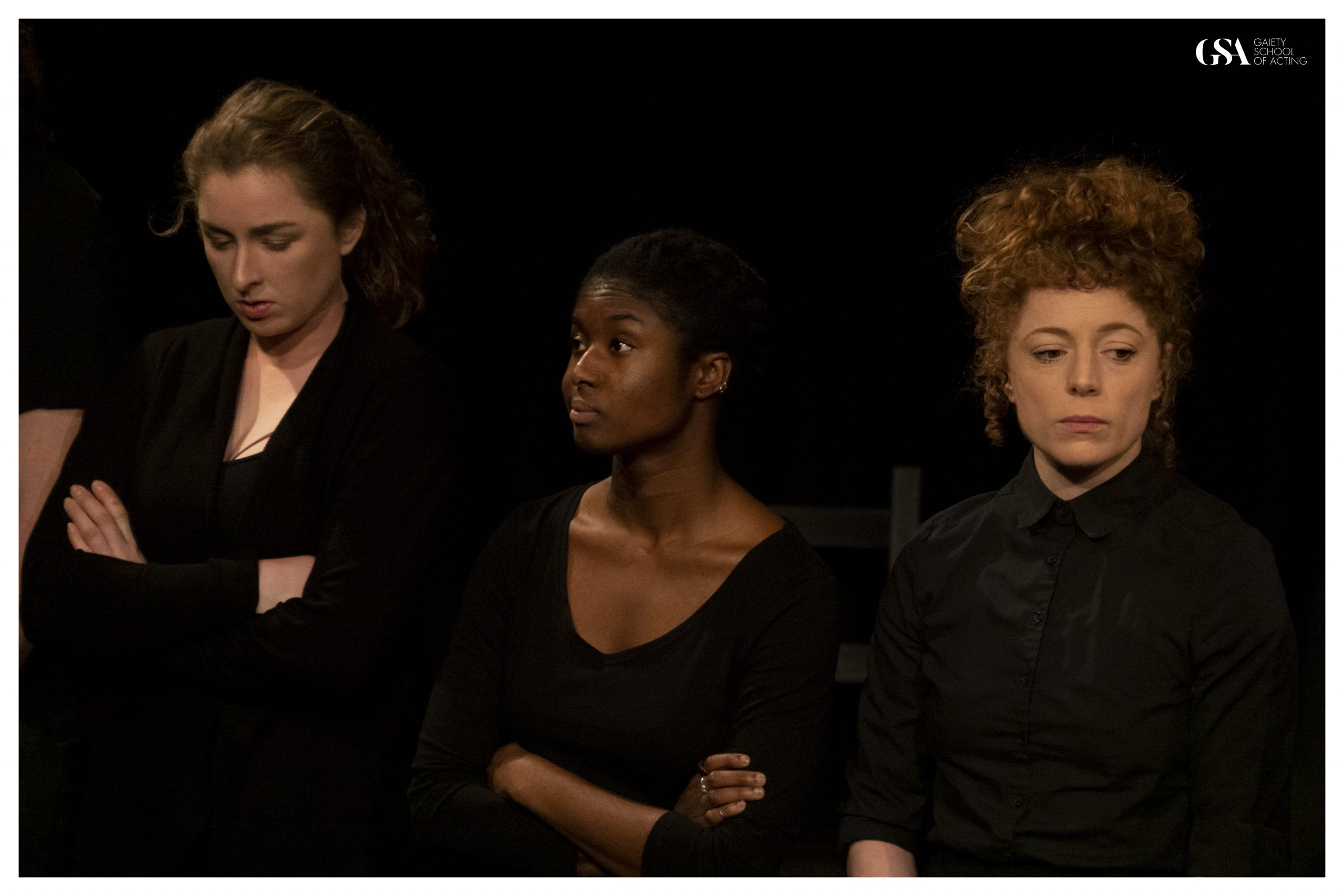 Irish Theatre Intensive for Actors
€400
Taking place on Monday mornings, this course will give those with prior acting experience the opportunity to work on key Irish theatre texts, in addition to developing their own theatre-making skills. This course would be of interest to Irish students wishing to learn more about the Irish Theatre canon, or international students travelling or living in Ireland.
Description
The Gaiety School of Acting welcomes students with prior acting experience to join us for a brand new course this Spring. This  course will give students the opportunity to develop their performance skills through the lens of Irish Theatre.  Students will work with texts from Marina Carr, Samuel Beckett, JM Synge, Sean O'Casey and more, investigating the prevalent themes and styles of the Irish Theatre canon.
The  course will also offer participants the space in which to create their own work through GSA's much lauded Manifesto programme.
The course culminates in a showcase of work created and scenes studied.
First week of class begins
January 16
Mid term week begins – no class
Feb 27
Classes recommence
March 6
Final week of class begins
April 17
About the Tutors
Clare Maguire: Irish Theatre
Clare graduated from Rose Bruford College with a BA Hons in Acting & Theatre Studies. For over 20 years she has worked as a theatre practioner and educator in both the UK and
Ireland.
For 10 years she worked as an Actor in the UK, touring internationally, and in the past 6 years as a Theatre Director in Ireland where she is now based. The majority of Clare's directing work has been predominantly with emerging artists, developing and staging new work. Directing credits include: 48 by Gemma Kane(No Desserts – Smock Alley, Viking, Mermaid & Axis 2019/20) Electric by Ali Hardiman (ILA Productions, Theatre Upstairs 2018 and tour including The Lyric Belfast, Brighton Fringe and Edinburgh Fringe 2019) The Wickedness Of Oz by Kate Gilmore (Show in a Bag 2016 – Fishamble, ITI, Tiger Dublin Fringe Festival – ZeBBie Award Winner – Best Radio Play 2016/Breda Cashe Productions – Project Arts Centre 2019) The Fattest Dancer At St Bernadettes by TKB (Breadline Collective – The Lir, Dublin Fringe 2018) The Shaughraun by Dion Boucicault (Smock Alley Summer Production 2018) Bronte by Polly Teale (Illustrated Productions – Smock Alley Theatre, The Mill 2017) Cornerstones by Bairbre Guilfoyle (Runcible Spoon – Smock Alley Theatre, Civic Theatre 2015) Clare is currently working as director on Nurse Me another piece of new writing by actor/writer Aoife Martyn. This piece, to date, has been given support by The Dublin Fringe Festival FRINGE LAB programme 2020 and was awarded development funding by The Abbey, Engine Room initiative 2020.
Alan Howley: Manifesto (theatre making)
Alan is a performer, writer, and theatre maker based in Dublin. He began acting with Dublin Youth Theatre, subsequently studying Performance at Dartington College of Arts, Devon. Alan has worked in theatre since 1989, including artist residencies at The Junction Arts Centre, Cambridge, The Space Programme at Castletown House (with The Performance Corporation), MAKE theatre residency at Annaghmakerrig, and on Pan Pan's International Mentorship programme. He has performed both nationally and internationally including shows in Dublin Theatre Festival, Dublin Fringe Festival, Edinburgh Fringe, as well as festivals in France, Germany, Denmark, Holland, Finland, Sweden, Belgium and Malaysia. Alan's solo performance works have been shown in the ICA London, the CCA Glasgow, and the Expo Live Art festival, Nottingham.
Alan is director of performance group Breach & Quinn. Their work has played Project Arts Centre, Tiger Dublin Fringe, Carlow Arts Festival, Galway Theatre Festival, as well as Theaterszene Europa Festival, Cologne and George Town Festival, Malaysia. In 2020, Alan was an Associate Artist at both Axis Ballymun and the Riverbank Arts Centre.
The Timetable
16th January, 10am-1pm
23rd January, 10am-1pm
30th January, 10am-1pm
13th February, 10am-1pm
20th February, 10am-1pm
27th February, MIDTERM – NO CLASS
6th March, 10am-1pm
13th March, 10am-1pm
20th March, 10am-1pm
27th March, 10am-1pm
3rd April, 9am-1pm
17th April, 9am-1pm
Showcase takes place April 20th 6pm
*You should only apply for this course if you have prior acting experience as it is an advanced level
Empty
Empty
Empty
Empty
Empty
Empty
Related Courses
€650
Part-Time Beginners Performance Course
Monday and Wednesday Evenings | October 2022 to June 2023
€650
An Intermediate Level of Part-Time Training
Tuesday & Thursday Evenings| October 2022 to June 2023
€210
Come lose yourself in the Wizarding World and join us for a Harry Potter-themed film-making camp for ages 8-12