Class of 2021 present Rogue
Wednesday, June 16th, 2021 at 1:55 pm | Uncategorized
The Gaiety School of Acting Class of 2021 presents Rogue 
A new play written by
Lee Coffey
and Directed by Tracy Ryan 
Smock Alley Theatre, June 21st to June 26th 
Book Live Stream Link Here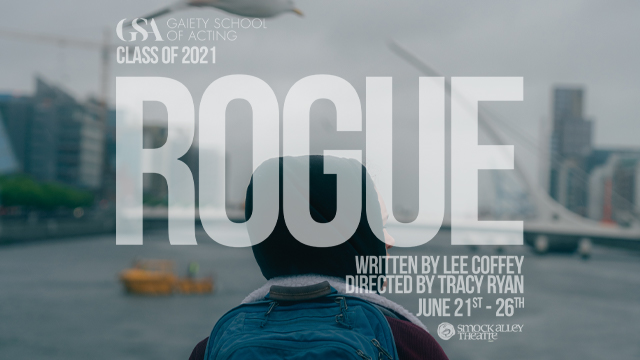 "Most of us enter this world. 

To find love and laughter. 

Then for some poor nippers. 

They're born to disaster."
Rogue follows the breakneck journey of a young Dublin woman as she races from domestic abuse to homelessness, until ultimately breaking through adversity to hope. Rogue holds a mirror up to the homeless crisis in Ireland, with the protagonist's trajectory depicting the stark reality of how precarious any individual's living situation truly is. 
Written by critically acclaimed playwright Lee Coffey and directed by Irish Times Award winner Tracy Ryan, Rogue will be performed by the Gaiety School of Acting's graduating class of 2021. The play promises to be a fast paced energetic experience that is underpinned by heart and connection; something which is synonymous with the work of both Coffey and Ryan. 
Rogue is not only a significant production in that it will serve to launch 15 new actors into their careers, but it will also be the first play to be staged in Smock Alley Theatre for a live audience in seven months. 
There will be just 6 tickets on sale for each night, with a live stream also available for purchase. 
This will be the 45th original production commissioned by the Gaiety School of Acting for their graduating class. The School will mark 35 years since opening in October 2021 and is proud to have trained hundreds of prominent actors of stage and screen including Colin Farrell, Aidan Turner, Sarah Greene, Deirdre O'Kane to name a few.
About the Director
Tracy Ryan trained at E15 Acting School and University College Dublin. Recent directing work includes Brothers of the Brush (Verdant Productions Viking Theatre and Irish tour); Iphigenia in Splott (Smock Alley Theatre); Legacy (Rich Mix, London), Trainspotting (Verdant Productions/ Reality: Check Productions: Olympia Theatre, Smock Alley Theatre and Body & Soul Festival; Disco Pigs and Sucking Dublin (Smock Alley Theatre – winner of the Best Ensemble, The Irish Times Irish Theatre Awards 2017); The Boys (Viking Theatre, Smock Alley and Dolmen Theatre); Sure Thing (The Corps Ensemble @ Bohemian Theatre, Bewleys Theatre, Dublin Fringe 2015 and Irish Tour);  Strike! (Samuel Beckett Theatre & Axis Ballymun); REVOLUTION! (Chancery Lane Theatre, Axis Theatre and Irish Tour); Rise (Aras Chronain & Irish tour), Guaranteed (Ass. Director to Conall Morrison, Fishamble Theatre Company & Irish Tour) and Cracked Eggs (New Theatre). Ryan is a founder member of Studio 3 Arts in East London and was Associate Director of the Work Theatre Collective, the 'Resident Theatre Company' at the Actors Centre, London.
About the Writer
Lee Coffey is a writer based in Dublin. He is a founding member and Artistic Director of contemporary theatre company Bitter Like A Lemon.
He was one of six writers selected for the 2018 New Playwrights Programme to mark the Lyric Theatre Belfast's 50th year celebrations. He was a participant in Six In The Attic in 2018 – 2019, an Irish Theatre Institute initiative to support and promote emerging creative talent. He was also a participant in the prestigious Rough Magic SEEDS programme in 2016 – 2017.
Lee's play In Our Veins – commissioned by Dublin Port Company – had a hugely successful run on the Peacock Stage at The Abbey Theatre in 2019 and is published by Samuel French. His debut play Leper + Chip has been performed to great acclaim at Theatre Upstairs, Project Arts Centre, Edinburgh Fringe Festival (nominated for the Broadway Baby 5 Star Award and the National Student Drama Award for Best Play) Electric Picnic, Lyric Theatre, Belfast and axis:Ballymun, Cork. It was also produced by Inis Nua Theatre Company in Philadelphia, USA. Other productions include Peruvian Voodoo (Theatre Upstairs), Slice, the Thief (Smock Alley, axis:Ballymun), Murder of Crows (Theatre Upstairs, Project Arts Centre, Garter Lane, Lyric Theatre Belfast), From All Sides (Dublin Fringe Festival), The radio play The Matron as a part of Dead Air (Bram Stoker Festival) The Tenements (Collaborations, Smock Alley) and 24 Hour Plays (Abbey Theatre). In 2020 Leper + Chip and Slice, The Thief were adapted for film as a part of Dublin Port Company's The Pumphouse Presents: alongside axis:Ballymun, Anu and Fishamble.
Lee was recently awarded an Arts Council Commission Award to write his new play The Fortune Brothers for axis:Ballymun. He is also developing new work with Livin' Dred, The Abbey Theatre and his television series "Dead Professional". He has also written plays for Inchicore College of Further Education and The Gaiety School of Acting.
Cast
James Braiden
Tessa Brockis
Josh Campbell
Mark Colreavy
Bláthnaid Daly
Jade de Villiers
Isolde Fenton
Ava Hahessy Madigan
Victoria Kidd
Callum Maxwell
Shauna McNevin
Benjamin Reilly
Biaina Ryan
Duncan Smyth
Rosa Thomas
Ronan Woods