Intercultural Learning Project 
The Gaiety School of Acting is working with partners from Ireland, Germany and France to develop an exciting programme addressing interculturalism in our schools. Grow from Seeds aims to provide high quality learning opportunities tailored to meet the needs of teachers and pupils of primary schools. Through this project we also intend to challenge extremism through social cohesion and inclusion, active citizenship and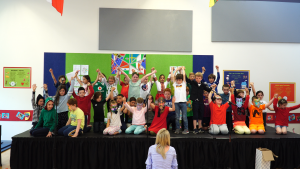 empowerment and participation of pupils.
This project is supported by Erasmus+ Strategic Partnership
Gaiety School of Acting – National Theatre School of Ireland (Coordinator) / Kildare Town Educate Together, Kildare (Ireland) / Gilden Grundschule, Dortmund (Germany) / La Transplanisphère, Paris (France) / Plan International, Dublin (Ireland) / Primary School les Fougères, Le Raincy (France)
Learn more at the Grow From Seeds Website!
Grow from Seeds Online Summer Course for Primary School Teachers
This course is run in accordance with the Department of Education and Skills criteria and is approved for EPV days
This is a Grow from Seeds summer course which aims to provide high-quality learning opportunities tailored to meet the needs of (second to sixth class) teachers and pupils of primary schools. The Grow from Seeds project intends to provide a programme designed to foster intercultural dialogue in Primary Schools, recognising European Parliament priorities to address anti-social behaviour through social cohesion and inclusion, active citizenship, and the empowerment and participation of pupils. The programme supports the Guidelines of Intercultural Education in Primary School and the Yellow Flag Programme. The objectives are in line with and complement both the Drama and SPHE curriculum.
Summer Course Feedback 2019:
"One of the best summer courses I have attended in a long time."
"Loved the ease with which the facilitator shared the activities – in a knowledgeable, fun but focused manner. So much fit into the 5 days, which will be great to introduce to the class."
"It was practical and easy to follow, while giving clear information on the essential learning goals. We learned activities which any child can be part of, promoting inclusivity and kindness."
"I think it is one of the best qualities we teach and should be in the classroom."
Course Details:
Dates: 17th – 21st August 2020
Location: Online (Zoom) 
Time:  20 hours 
Cost: €70 
Click here to book now, or call us on (01) 679 9277 
For more course information see here.