King Lear 2020
Leaving Cert Production touring Autumn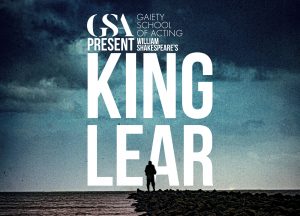 The Gaiety School of Acting Shakespeare in Schools Programme is designed for  groups of Leaving Certificate students nationwide, giving them the opportunity to experience their Shakespeare Play as it was meant to be: live on stage. Every year the show is professionally directed and performed and tours to Dublin, Cork and Athlone. The GSA Shakespeare production promises to engage and excite students, leaving them with a new and invigorated interest in their Shakespeare text. This year's production of King Lear will be open for bookings from February 24th 2020.  Contact shakespeare@gaietyschool.com or call 016799277 with your preferred dates and times and approximate group number. Early booking is advised as our 2019 shows booked out very quickly.
What does the programme include?
Shows take place every day at 9.30am and 1pm and all bookings include:
Traditional production of King Lear (1.5 Hours)
Director's Insight workshop (1 Hour) featuring a Q & A session with cast members about relationships, characters and themes
An indepth Student Workbook with information on general vision and viewpoint, the role of women in the play, exploration of the idea of death, symbols, an introduction to the main characters and theatrical information
Pre-show video for your students. This will introduce them to the play, featuring interviews with the play's director and some of the cast, the cultural impact of the play, the revenge genre and exploration of the idea of a tragic hero
Post Show Video of Key Scenes and Soliloquies.
2020 Show Dates
Smock Alley Theatre, Dublin: 13th – 16th October
Smock Alley Theatre, Dublin: 19th – 23rd October
Dean Crowe Theatre, Athlone: 2nd – 6th November
The Firkin Crane, Cork: 9th – 13th November
Smock Alley Theatre, Dublin: 16th – 20th November 
Hamlet Resources
Please find below some resources you for students to use when studying for their Leaving Certificate exams.
Previous Teacher Feedback
"Snappily directed, well paced, well acted."
"The workshop with students is an excellent
opportunity to engage with their studied play"
"Excellent as always. Fantastic feedback from students."
"A fabulous show – My students and I really enjoyed it – this will really help them in their appreciation of the play. We look forward to future productions."
Gemma Moran, Terence MacSwiney Community College, Cork
For programme queries or to speak directly to the Programme Coordinator contact The Gaiety School of Acting on 01 6799277 or email shakespeare@gaietyschool.com
Check us out on Facebook and Twitter and see News2day's feature on last year's production here.
PLEASE TAKE NOTE OF OUR TERMS AND CONDITIONS:
A €50 non-refundable Administration Charge is required on Booking (This is deducted from the total cost)
No booking is final until full payment has been received by The Gaiety School of Acting
Once purchased, tickets cannot be refunded.
Tickets may be exchanged for another performance subject to availability.
Management reserve the right to cancel any performance without prior notice. In this event, tickets may be exchanged or refunded in full.
Management reserve the right to make essential changes to cast or programme without prior notice.