A Midsummer Night's Dream – ShakesVR
Video will be available soon.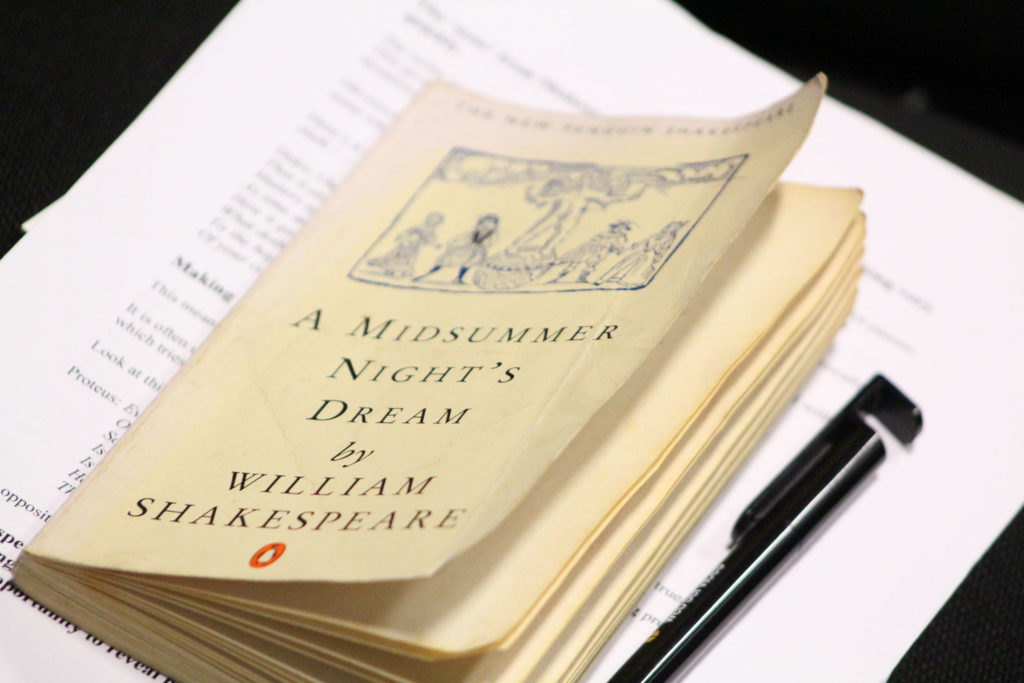 A Midsummer Night's Dream
"Love looks not with the eyes, but with the mind, And therefore is winged Cupid painted blind."
A Midsummer Night's Dream is one of Shakespeares most well known comedies, however it has quite a complicated plot involving four separate plots and four distinct groups of characters:the court party of Theseus, the four young lovers, the fairies and the rude mechanicals.
Plot Summary
Egeus brings his daughter Hermia to the Duke. Egeus wants her to marry Demetrius but Hermia refuses, because she's in love with Lysander. The Duke orders Hermia to obey her father or, according to Athenian law, she must choose between death penalty or a convent.
Hermia and Lysander decide to elope. They confide in their friend Helena, not realising that she is in love with Demetrius . She tells him of Hermia's plan and that night, all four lovers set out into the forest.
Meanwhile, the mechanicals, are rehearsing in the same forest
The fairy king and queen, Oberon and Titania,who are also in the forest, are arguing over Titania's refusal to give up her page-boy to Oberon. Oberan sends Puck to find a magic plant so that Oberan can create a love spell that he uses on Titania as she sleeps.
Puck comes across the Mechanicals rehearsing and magically transforms Bottoms head into an Asses head. When titania awakes she see Bottom and falls deeply in love
Helena and Demetrius are fighting in the forest. Oberan tells Puck to use the plant on Demetrius so that he will fall in love with Helena. Puck accidentally uses it on Lusander, who falls in love it Helena, Hermia is furious and attacks Helena
Oberan decides to lift all the enchantments and put the human into a deep sleep. Titania and Oberan are reconciled. The four humans wake up and believe all the events were a dream. Demetrius admits he loves Helen and Lysander and Hermia are still in love.
The play ends with a triple wedding and a performance by the mechanicals
ShakesVR Video
In this scene we see an angry Athenian nobleman Egeus with his daughter Hermia and her two suitors Lysander and Demetrius. Egeus explains that he wants his daughter to marry Demetrius, but that she loves Lysander, who has "bewitched" her with songs of love and gifts.
In this scene we meet Helena, a friend of Hermia who is lovesick, deeply melancholy and jealous because Demetrius no longer loves her. Hermia reveals she loves Lysander. What will Helena do to recapture the love of Demetrius.
Just before the action takes place two fairies, one a servant of Queen Titania, the other a servant of King Oberon, meet by chance in a glade. Oberon's servant tells Titania's to be sure to keep Titania out of Oberon's sight, for the two are very angry with each other. Titania, he says, has taken a little Indian prince as her attendant, and the boy is so beautiful that Oberon wishes to make him his knight. Titania, however, refuses to give the boy up. We watch as Oberon and Titania unexpectedly meet.
This exchange happens immediately after Titania and Oberan's quarrel The circumstances regarding Demetrius and Helena's previous relationship are unclear, all we know is that Demetrius now wants nothing more to do with her telling Helena, "I love thee not, therefore pursue me not" What does this scene tell us about Demetrius and Helena?
LINKS FOR MORE READING AND RESOURCES
https://www.rsc.org.uk/a-midsummer-nights-dream/learning
https://www.ccsoh.us/cms/lib/OH01913306/Centricity/Domain/207/A%20MIDSUMMER%20NIGHTS%20DREAM%20BY%20WILLIAM%20SHAKESPEARE%20TEACHER%20RESOURCE18.pdf
https://www.teachit.co.uk/english/ks3/plays/shakespeare/midsummer-nights-dream
https://www.shmoop.com/study-guides/literature/midsummer-nights-dream