Michael Fassbender and Hollywood Friends visit GSA
Tuesday, March 31st, 2020 at 3:41 pm | News & Events, Uncategorized
The Gaiety School of Acting – The National Theatre School of Ireland opened its doors to welcome a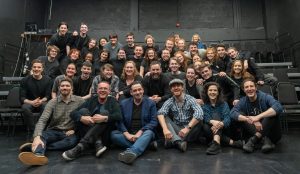 series of Hollywood heavyweights on Friday, March 6th 2020, to speak to the Two Year Full-Time Professional Actor Training students. 
Multi award winning actor and producer, Michael Fassbender, took time from his busy schedule promoting his film Calm with Horses, to speak with our students. Michael is best known for his work portraying Magneto in X-Men: First Class, Steve Jobs in Danny Boyle's directed film Steve Jobs, Lieutenant Archie Hicox in Inglorious Basterds, and Bobby Sands in Hunger.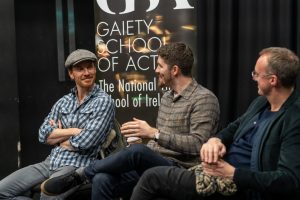 Also present to inspire the students was Agent and Producer Conor McCaughan from Troika Talent, and screenwriter Joe Murtagh, both of whom were also in Dublin for the premiere of their film Calm with Horses. Calm with Horses opened in cinemas nationwide on March 13th. It is no surprise that this drama set in the West of Ireland stars a plethora of Gaiety School of Acting graduates such as Ned Dennehy, David Wilmot, Simone Kirby and Toni O'Rourke.
As a friend of the school, and former student of GSA tutor, Donal Courtney, Michael Fassbender was delighted to impart knowledge from his extensive career to the students, emphasising the importance in self belief and hard work, which form a winning combination for success. The Gaiety School of Acting tutor, Donal Courtney, was Fassbender's first acting coach, and to this day, Michael cites Donal as being one of his mentors.
With a vast list of notable alumni ever present on stages and screen nationally and internationally, the Gaiety School of Acting remains Ireland's premiere drama training facility. With courses starting for all ages in Drama, Confidence Edge, Acting for Camera and Stand-Up Comedy, why not see if you can be Ireland's next Hollywood star by signing up to one of our courses today!
You can sign up to any GSA course either online or email info@gaietyschool.com #LoveGSA