Description
Singing Masterclass
Led by Shelly Bukspan, this course will give students a basic understanding of how the voice is produced and works through song. Similar to a fingerprint, each voice is unique. The day will be divided into three components with the morning focusing on cultivating a practice routine through warm-up and cool down exercises and introducing ensemble singing for vocal blending, timing, and listening skills.
The afternoon session will focus on solo work, where the student can workshop areas they wish to receive feedback on through individual performances.
Students are asked to prepare one song and have a backing track on their phone or other device, and bring a print out of the lyrics with them.
For Ensemble Singing please listen to the following tracks on Youtube: 
Up Above My Head – Sister Rosetta Tharpe
Bridge Over Troubled Water – Aretha Franklin
Time After Time – Cindy Lauper 
BENEFITS & LEARNING
1. Learn how to support, control, develop and enhance your natural vocal ability through exercises that focus on breath support, resonance, placement, and physical awareness.
2. Learn how to tailor-make a warm-up and exercise routine that will allow you to further develop and strengthen your natural abilities after the course.
3. Study methods and techniques used to convey emotion and storytelling through performance and song.
Day: Sunday, 17th May 2020
Time: 10.00am – 5.00pm
Cost €100.00
About the Tutor: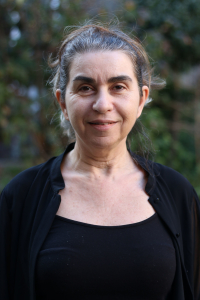 As a front woman and solo artist,  Shelly has performed at many events and festivals, including CMJ New York and the Montreux Jazz Festival, among others. She's also appeared on TV and radio shows both in Ireland and abroad, such as sessions for the BBC, with the RTE Orchestra and many more.
She's recorded, collaborated with and arranged backing vocals for artists such as Mary Black, Bronagh Gallagher, Mary Coughlan, Horslips and other many indie and contemporary young Irish artists.
Shelley runs music workshops, as well as leading a choir and her own Gospel quartet, The BC Singers. Her recent projects includes an album of original Northern Soul and Ska with The Supertonic Sound Club, plus work on her solo album.