Description
Youth Theatre Company
Advanced Acting Course for ages 16-19
Term One runs October 3rd to December 12th (no class on 24th October) 
The Youth Theatre Company is the highest level of actor training at the Gaiety School of Acting for young people aged 16-19. Every year in September we audition for new members of the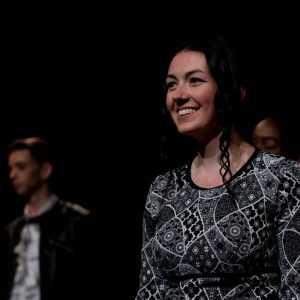 company – the audition is a group audition and there is no need to prepare anything in advance. Young people who wish to to audition for YTC must have completed at least one term in another Young Gaiety course, so as to ensure that they have adequate confidence and experience for this advanced course. This year auditions will take place via Zoom. Audition dates will be announced once existing company members have rebooked. Existing company members can book by calling 016799277. Please ensure you have watched the below video regarding updated procedures before booking. 
Throughout the year members of the company will expand their acting skills and get first hand experience running a theatre company. Each year, the company produces a showcase of new work created by the members from scratch at the end of term one and a full length production at the end of term three.  In the Youth Theatre Company, you will be involved in all aspects of running a company. This will include fundraising, publicity, writing, acting, sound design, costume design and much more.
Due to Covid-19 restrictions, this year the company will be asked to create work that allows for social distancing. This may be in a format such as online or radio.
YTC is led by theatre professionals with external workshop practitioners invited in to do guest workshops with the company in a variety of performance skills.  This course is a stepping stone for young people who are serious about theatre. Many past Youth Theatre Company members now work professionally in the industry. 
Participants of Youth Theatre Company can expect to:
Experience first hand the running of a theatre company

Experience all aspects involved in this from fundraising to writing, designing and acting

Expand their acting skills and build confidence as a performer

Learn new acting skills that will be beneficial to anyone wishing to work professionally as an actor
Learn how to work in an ensemble
Students must audition for a place in the Youth Theatre Company. Auditions for the 2020 – 2021 Youth Theatre Company will take place in September 2020! The audition dates will be announced very soon.
TEMPLE BAR
Day: Sunday 2.00pm-5.00pm | Cost: €305 | Age: 16-19 yrs