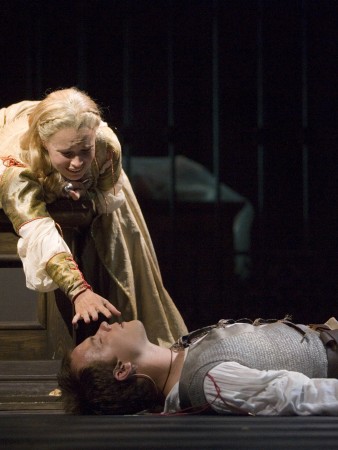 Romeo and Juliet – ShakesVR
Description
Romeo and Juliet
"For never was a story of more woe than this of Juliet and her Romeo"
Perhaps the most famous of Shakespeare's work and certainly one of the most famous Love stories in the world. Romeo and Juliet is the timeless tale of star-crossed lovers.
Love is the most important theme in Romeo & Juliet and it manifests itself in many different ways throughout the play; however it's clear from the start that this is hardly just the story of two passionate teenagers. Shakespeare states that it's a tale of "[t]wo households, both alike in dignity" which have  been embroiled in a feud of such long duration that no one can remember why it began, what follows is one of Shakespeare's most famous works
Plot Summary
The play opens when an ongoing feud between two powerful families erupts into bloodshed. A group of masked Montagues including Romeo risk further conflict by gatecrashing a Capulet party. At first sight a young lovesick Romeo falls instantly in love with Juliet who is the daughter of a powerful Capulet. To complicate matters further, Juliet is due to marry the County Paris. This is her fathers choice of Husband not hers. With the help of her nurse, Juliet arranges for her and Romeo to marry the next day. Meanwhile Romeo attempts to stop a street fight which leads to the death of Tybalt.
Tybalt is Juliet's cousin and Romeo is banished. Desperate to be reunited with Romeo and avoid marrying the County Paris, Juliet follows the Friar's plot and fakes her own death. A message is sent to Romeo telling him of this plot. The message does not reach him in time. Romeo, believing Juliet dead, takes his life in her tomb. Juliet wakes to find Romeo's corpse beside her and kills herself. Their deaths force the grieving family agree to end their feud
ShakesVR Key Scenes
The Nurse is considered a minor character in the play but one who has a major influence in Juliets relationship with Romeo. Earthy and bawdy, this monologue allows us to gain a deeper understanding of the relationship between the Nurse and Juliet.
Just preceding the start of this video Paris is busy making plans with Friar Laurence for his upcoming wedding with Juliet. Juliet enters, and, assuming she's there for confession, Paris makes his exit. A despairing Juliet, breaks down and begs Friar Laurence's help in averting her upcoming marriage to Paris.
On the eve of her marriage to Paris, Juliet is desperate to be reunited to with her Romeo. The Friar has offered a solution, fake her death and he will send word to her secret husband to return and they can be together. This monologue allows us to understand Juliet's decision making process
In this scene The Nurse comes to wake Juliet on the morning of her wedding, unaware of what is about to unfold
This is one of the most iconic moments in all of Shakespeare's work. Watch the tragic finale of the Star crossed lovers, Romeo and Juliet
LINKS FOR MORE READING AND RESOURCES
https://www.rsc.org.uk/romeo-and-juliet/education
https://www.shakespeare.org.uk/education/teaching-resources/?topic=18&gclid=Cj0KCQiA1NebBhDDARIsAANiDD3cvYa2pNSCvxjRa7W_I5ZRTeJuLJZRkBLktjqQibeNWwmBwTns6OMaAraREALw_wcB
https://www.teachit.co.uk/english/plays/ks4/shakespeare/romeo-and-juliet
https://www.scoilnet.ie/search/resource/entity/show/Lre/16364/
Empty
Empty
Empty
Empty
Empty
Empty