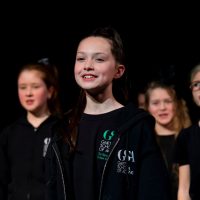 Young Performers Company 11-13
€210
This course is suited to students who are experienced in drama and who wish to apply the skills they have developed through focused performance work.
Description
Young Performers Company
The next auditions for the Young Performers Company will take place Autumn 2022.
The Young Performers Company is the highest level of actor training at the Gaiety School of Acting for children aged 11-15 years. Every year we audition for new company members. In order to audition, young people must have completed at least one term in another Young Gaiety course.
Auditionees will be informed of the outcome of their audition no more than one week after the audition. Once accepted onto the Young Performers Company, you do not have to audition for following terms.
Please Note: Dependent on Government regulations on Covid-19 classes may take place on Zoom. We will update regularly here on GSA's response to government Covid-19 restrictions. 
Participants of the Young Performers Company can expect:
Social, personal and artistic development through the medium of drama
Learning commitment and responsibility for the role they play and the contribution they make to the workshop itself
Freedom of creative expression in a fun and safe environment
Team work, observation and feedback skills
Tap into their strengths and gain confidence
Explore complementary elements of theatre such as writing, directing and stage management
Related Courses
€310
The Youth Theatre Company is the highest level of actor training at the Gaiety School of Acting for young people aged 14-18. Every year in September we audition for new members of the company.
€200
A week long Summer Camp fo 8-11 year olds brimming with playful and inventive fun.
€200
A five day Summer camp for young people who are passionate about acting and want to hone their craft.