Life in Lockdown: What we can learn from Shakespeare
Tuesday, June 2nd, 2020 at 4:35 pm | News & Events
Staff Blog: Life in Lockdown:
What we can learn from Shakespeare 
Written by GSA Shakespeare Coordinator, Rebecca Dolan
The Covid-19 crisis is unlike anything we have experienced in our lifetime, it has closed theatres, shops, cafes, travel has ceased and people have seen the biggest restriction to their movement since the 2nd World War. It is easy to see this experience as something completely outside of the realms of our understanding, however the lockdown has reminded me of several lines and scenarios from Shakespeare's work. Rereading some of his works has been strangely beneficial and positive. Shakespeare lived at a time where the bubonic plague was rife throughout England. There were particularly severe outbreaks of plague in 1564, the year Shakespeare was born and in Stratford on Avon nearly ¼ of the population died. Further outbreaks occurred in 1582, 1592-93, 1603-04, 1606, and 1608-09. These outbreaks resulted in the closure of theatres and the banning of large gatherings. Sound familiar?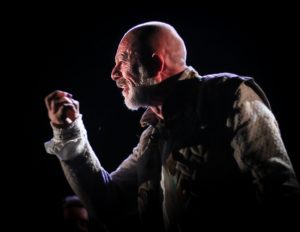 So how did the threat of plague influence his work? References to plague and pestilence can be found throughout Shakespeare's work, never hugely to the forefront, it always seems to be in the background of his work. "Plague was the single most powerful force shaping his life and those of his contemporaries," writes Jonathan Bate, one of his many biographers.
There are very few instances in his plays when plague was a  particularly strong plot device but one can be found in one of his most well known works, Romeo and Juliet. In his tale of star crossed lovers, Mercutio shouts "A plague on both your houses." as he lies mortally wounded.  This plague comes into effect when Friar John is unable to deliver his letter telling Romeo that Juliet has faked her death because of an outbreak of plague and his forced quarantine. This delay directly results in the tragic ending of the play.
Shakespeare was not only a poet, a playwright but also a professional actor and a shareholder in hisacting company so the plague was not only an inspiration for his work but also a very real threat to not only his life but also his livelihood. Between 1603 and 1613 theatres in London were shut for nearly 78 months which is about 60% of the time. So what did Shakespeare do during this period?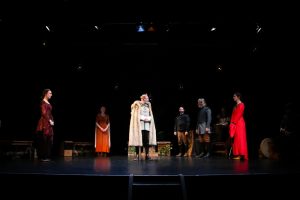 Shakespeare continued to do what he had always done, He wrote. Although it is always hard to date exactly when Shakespeare wrote certain texts, there is evidence to suggest that King Lear was written during the shutdown of theatres. King Lear is considered one of Shakespeare's most important works. A tragedy which depicts the fading powers of a King, and the fallout from his ultimately devastating decision to split his kingdom between his three daughters based on who professes their love for him the most.
Shakespeare creates a bleak chaotic picture of an ancient pre-Christian Kingdom. However, there are multiple references to plague throughout the text. Lear describes the "plagues that hang in this pendulous air", he also refers to his daughter Goneril as "a plague sore, an embossed carbuncle in my/Corrupted blood" – a very specific reference to one of the symptoms of the bubonic plague. 
So what can we learn from Shakespeare? Even in the midst of devastating plague outbreaks which decimated the population Shakespeare found a way to create, to have a livelihood and not only survive but create works that have transcended across centuries and cultures and remain hugely important right up to today. In a society without our technology and medical knowledge, society recovered, theatres reopened and people gathered again, hope returned. 
Lockdown has given many of us extra time and space to read, create and think. Let's take our inspiration from Shakespeare "It is not in the stars to hold our destiny but in ourselves" We may not write a tragedy like King Lear but we can take up the challenge of learning to bake that cheesecake we always wanted to, pick up a musical instrument that has languished in the corner, watch that play online that we couldn't get tickets for, learn how to knit or take the walks in the evening that we never had time for.  Once again Shakespeare sums it up perfectly "We know what we are, but know not what we may be."
Click here to find out more about the Gaiety School of Acting's Shakespeare in Schools 2020 Programme for Leaving Certificate students nationwide, or here for more information about our Shakespeare Junior Cycle Workshops.