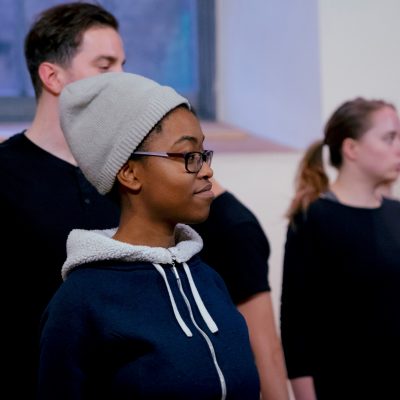 This course is for those wishing to start their journey to the stage!
Description
Acting for Beginners
This course is for those wishing to start their journey to the stage! Designed for complete beginners, this course will give you the opportunity to learn the basics of Acting, while meeting new people and developing transferable skills.
Taking place one evening a week, each term lasts ten weeks. Your tutor will be a skilled acting coach with years of training and experience working in the theatre and film industry.
The course takes place over three terms – we recommend that students commit to three terms for optimal learning opportunities.
Please Note: Dependent on Government regulations on Covid-19 classes may take place on Zoom. We will update regularly here on GSA's response to government Covid-19 restrictions. 
Benefits & Learning
Learn basic improvisation skills
Build your confidence
Become more aware of your command over voice and body
Experience the energy and excitement of ensemble work
Develop new friendships and connections
Be trained in how to approach text from the performance perspective
Gain a better understanding of the actor-director relationship
Work on a monologue
Learn how to work effectively with a scene partner
When:  Tuesday or Wednesday Evenings
Dates: 29th March – 31st May / 30th March – 01st June
Time: 7-9pm
Fee: €350 per term
*This class will take place in person, and will revert to online only if government regulations make it a necessity
Related Courses
€310
The Youth Theatre Company is the highest level of actor training at the Gaiety School of Acting for young people aged 14-18. Every year in September we audition for new members of the company.
€200
A week long Summer Camp fo 8-11 year olds brimming with playful and inventive fun.
€200
A five day Summer camp for young people who are passionate about acting and want to hone their craft.