Take the leap, and audition now for One Year Part-Time
One Year Part-Time is the most challenging part-time training opportunity at the Gaiety School of Acting. Entry is by audition only and each level takes place from October to June, two evenings a week from 7-9pm. Students are welcome to audition for any level of the course, and can complete one level in isolation, or indeed complete the three years in succession.
You can apply HERE for 2020 entry – applications close on July 1st 2020. Sign up now for our open day.
To listen to the experience of some of our Part-Time students, see below.
Performance year is designed to give students an opportunity to explore the process of acting in a supportive and structured environment. Students are encouraged to embark on a personal journey that will challenge their perceptions, develop spontaneity, and foster…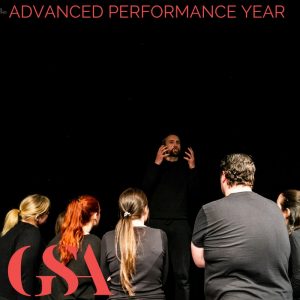 The Advanced Performance course is aimed at those students who are committed to further enhancing their skills as a performer. The course maintains a strong emphasis on performance and the presentation of work while focusing on the individual students' strengths…
The Performance Theatre Company provides a practical educational experience in the production of theatre in an ensemble company format. One full production is delivered each term and is showcased to a public audience. The Performance Theatre Company is designed to…