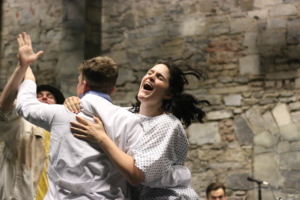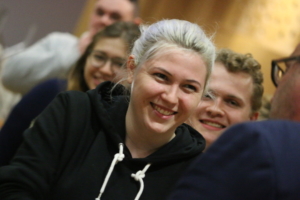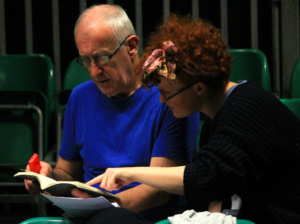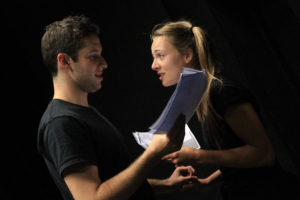 Apply NOW for 2020 entry – applications open until September 1st.
COURSE DETAILS
Performance Year at the Gaiety School of Acting will give you the opportunity to begin to train seriously as an actor, without the commitment of full-time training. Participants get the chance to explore the process of acting in a supportive and structured environment. Students embark on a personal journey that will challenge their perceptions, develop spontaneity, and foster imaginative development, while learning real acting skills.
Term 1: October 2020 – December 2020
Term One will focus on the individual, and build your foundation as an actor. This term your tutor will work with you to build self awareness and encourage ensemble and trust within your group. In this term you will begin to work with text, body and voice. The term culminates in a performance of monologues in front of your own class. During this term you will receive a specialised workshop in performance – e.g Stage Combat, Voice, Accent, Movement
Term 2: January 2021 – March 2021
Term Two will introduce text analysis and character development through physical, emotional and intellectual processes. Each student will work on scenes with a partner, learning about performance and character relationships, investigating genre, style and period. The term culminates in a performance of duologues before all Performance Year classes. Each class will receive a specialised workshop in performance – e.g Stage Combat, Voice, Accent, Movement.
Term 3: April 2021– June 2021
In Term Three we focus on the decision making of an actor. You will work on voice and speech and on energy needed for performance. The focus of the term will be on preparation for your final showcase of duologues which will be performed for the public.
ENTRY REQUIREMENTS
Entry to the course is by application and interview. Everyone who applies is called for interview.
Acceptance on to the course is on the basis that the student will have some prior experience of, or training in, performance. Students who can demonstrate equivalent experience in another discipline may also apply.
Days: Monday and Wednesday
Times: 7.00pm – 9.00pm
Dates: Three Ten week terms running from start of October until June.
Cost: € 1860.00
Deposit of non-refundable €500 is required to secure the place.
Payment plans available i.e. Direct Debit weekly or monthly payments
Age: 18 years and over
PLEASE NOTE:
A reading list will be provided at the start of term which although not compulsory is recommended reading. Throughout the year your tutor may request that you read certain extracts of these books. These books are available for loan from our library and extracts can be photocopied within the constraints of copyright law.
Your theatre visit will happen during class time and is a compulsory event. The cost of your ticket is included in your fees.