Part-Time Actor Training 
Due to Covid 19 Social Distancing Restrictions, the GSA has reimagined the Part-Time Training courses for 2020/2021. Find out more here.
The Performance Theatre Company provides a practical educational experience in the production of theatre in an ensemble company format. The Performance Theatre Company is designed to nurture new performers and introduce the experience of producing ensemble theatre. The course educates students in a variety of theatre and performance styles.
Students will be involved in the onstage and backstage operation of producing each show and will experience the rewarding feeling of belonging to an ensemble production company for the duration of the course. Along with acting in each show, students will contribute to direction, design, sourcing of props, sets and costumes, marketing of each production and the devising of work where applicable.
Although ongoing actor training is provided where necessary, the main emphasis is on the rehearsal and preparation of the theatre pieces to be showcased at the end of each term. As such, the individual's own artistic contribution to the work is expected and highly valued. Students are expected to commit completely to the ensemble and to apply their skills and tenacity as performers and members of the company.
Term 1
Term 1 will be an introductory term building on your toolkit as an actor. You will present a low scale in-house showcase. You will maintain contact with your mentor throughout the year from Terms 1 to 3.
Term 2
In Term 2, you will bring the skills garnered in Term 1 and develop them further through the creation of your own work. The methods used in this term will draw heavily upon Manifesto, one of the most crucial modules on the Gaiety School's Full-time Programme. Manifesto has played a fundamental part in GSA graduate work, such as that produced by Stefanie Preissner and Genevieve Hulme-Beaman.
As a collective, and individually, you will work on devising your own work. Learn what is required to present and produce your own ideas for stage. You will present the culmination of your term's work in a showcase at the end of term.
Term 3
In Term 3 you will once again work with your initial tutor who will draw on the skills and learnings of Terms 1 & 2 to develop a full length public production with the ensemble.
Entry to the course is by audition only – apply here now!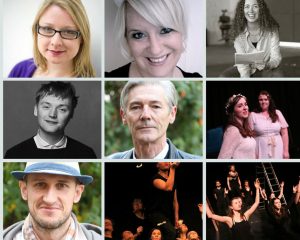 Entry Requirements 
Everyone who applies will be called for audition and interview. A reference will be required from the students' Advanced Performance tutor (or tutor of equivalent performance course.) Attendance records at Advanced Performance Course will be taken into account. Selected students may be asked to attend a workshop as part of the selection procedure.
Days: Two evenings a week
Times: 7.00pm – 9.00pm
Dates: Three ten week terms running end of September – June
Cost: € 2200.00
Deposit of non-refundable €500 is required to secure the place.
Payment plans available i.e. Direct Debit weekly or monthly payments
Age: 18 years and over
Location: Temple Bar
Advanced Performance Year Benefits:
At least one theatre visit a year. Ticket cost is included in your fees
Membership of the Abbey Theatre Cameo Club 
Organised social gatherings every term
Access and invites to exclusive GSA events