5 Reasons to Train Full-Time at the Gaiety School of Acting
Thursday, March 4th, 2021 at 12:48 pm | News & Events
Why should you consider applying?
It's been niggling at the back of your mind for months, years maybe. Every time you watch a film or go see a play (remember them?) you have a yearning to be the person in the spotlight. You've read plays and cast yourself in everything from Shakespeare to Miller to Ibsen to Churchill and everything in between and after. Maybe you've completed short courses and weekend workshops and been in your fair share of student films and plays, but still you can't quieten that voice that is urging you to fully commit to training professionally as an actor. 
It is undoubtedly a big commitment. The Gaiety School of Acting's Two Year Full-Time Professional Actor Training Programme means 8am starts and late finishes, dedicating yourself heart body and soul to your craft and eating, sleeping and breathing acting. The rewards on the other hand are plentiful. You will spend two years of your life with a group of people as equally committed to the artform as you are, and by a team of teaching staff and administration who will support you to become the best artist you can possibly be. 
The application deadline for the Two Year Full-Time Programme is coming up on March 12th, so you don't have much time left to decide. To help you out, here are the top 5 reasons why you should train Full-Time at GSA.
1. You will be working with industry professionals
The tutors you will work with on your classes – whether it's Acting, Voice, Movement, Stage Combat or any of the other modules on the curriculum (you can see them all outlined here) all work professionally in their fields. As they are actively involved in the industry, they are best placed to steer you and your career in the right direction. 
"My favourite part of the school was the tutors. They all work in the industry so their knowledge of the business is invaluable. I learnt so much about myself and what I wanted from life. They taught me so much about the craft." – Sarah Greene, Class of 2006 and star of Normal People 
2. Industry Exposure 

Because we are well-placed within the industry, we can make sure you are put front and centre when you are ready to make your debut. At the end of the two years of training, there are a series of showcases that industry professionals such as Talent Agents, Casting Agents, Directors and Producers are invited to attend. We are committed to giving you the best opportunities to network and make connections that we can. 
3. You graduate as a theatre-maker as well as an actor
In the Full-Time Programme you will take part in a module called Manifesto. In Manifesto you are given the tools with which to create your own work. From writing to casting, lighting to costume, you are given a wide range of practical skills, in addition to being introduced to a variety of genres and styles of theatre. Since the Manifesto programme was introduced in 2009, GSA graduates have staged over 50 original productions, many of which are directly related to the work that they developed in class. 
"I think the most beneficial class for me was Manifesto. You shouldn't underestimate the importance of creating your own work when you're starting out. I've seen a lot of people I know from the Gaiety put on innovative, small budget stuff which has got them a lot of attention from agents etc. and led to more work" – Ian Toner, Class of 2013 and star of Hulu's Catch 22 
4. You are joining an illustrious alumni of award winning actors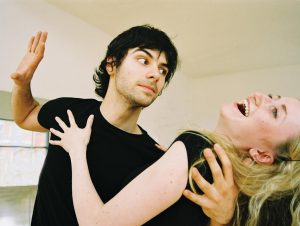 The GSA has been training actors since 1986. In the 35 years since its inception, we have witnessed the phenomenal success of our graduates both nationally and internationally. In the last ten years GSA graduates have won over 50 awards and been nominated for many more awards including Tonys, Golden Globes, IFTAs and Irish Theatre Awards. You can find out more about the many leading actors who trained at GSA here. 
5. Your training doesn't need to end after two years
The GSA's Full-Time Actor Training Programme is two years in duration, and most of our graduates will then start trying to get work either in Ireland or abroad. However many of our graduates have taken the opportunity to pursue further education and gone on to apply for the Masters in Theatre Practice that GSA offers in conjunction with University College Dublin. Many graduates of the Full-Time Actor Training Programme have completed the Masters, giving them further career opportunities. 
"The 2 years at the Gaiety were some of the best years of my life". – Caoimhe O'Malley, Class of 2011 and star of Dublin Murders 
If you can see yourself training on a full-time programme, if you believe you are ready to dedicate yourself entirely and are passionate about acting, we would love to see you at auditions. We are accepting applications until March 12th 2021 and look forward to meeting you!